Like the Pumpkin, this eCookbook is
Only Available for a Limited Time!
The Clean Food Crush recipes are so easy and quick to make.
Pumpkin is filled with nutrition, and is deliciously autumn.
Instant Access via Online Download or order the Physical Book from Amazon.com
Hi! I'm Rachel, a mom of 4 young children.
At 33 years old I began sharing my simple recipes
& REAL food ideas with the world via social media.
The response has surpassed my wildest dreams!
I know REAL food can be SIMPLE, and delicious.
Health through nutrition should be attainable to ALL.
These recipes will become your seasonal treasures.
Last September, I felt both the peacefulness of Autumn creeping in, and an urgency to create and share a collection of Pumpkin Recipes for health, simplicity, comfort and fun.
You will find my best Pumpkin ideas inside this book, along with an ode to my favorite season, and favorite vegetable…
the GREAT PUMPKIN 🙂
Wishing you health, comfort, & happiness this Season!
Love, Rachel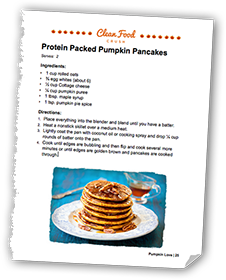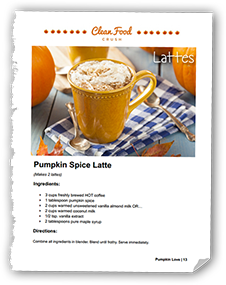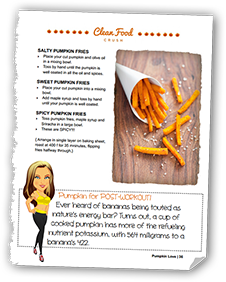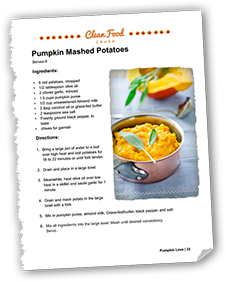 .
Included inside Pumpkin Love are the following Recipes:
{One – Pumpkin Treats} Starting on Page 5
Pumpkin Seeds
Simple Roasted Pumpkin Seeds
Gourmet Pumpkin Seeds
Tangy Roasted Pumpkin Seeds
Pumpkin Protein Bliss Bites
Pumpkin Pie Protein Shake!
Breakfast Pumpkin & Orange Smoothie
Pumpkin Pie Smoothie
Pumpkin Spice Smoothie
Pumpkin Booty-Building Protein Shake
Peanut Butter & Pumpkin Smoothie
Pumpkin Ice Cream!
Pumpkin Spice Latte
Clean Pumpkin Spice Latte for 1
Pumpkin Spice Latte for Agave lovers
Clean Pumpkin Latte made with Stevia
Protein Pumpkin Spice Latte
{Two – Pumpkin Mornings } Starting on Page 19
Pumpkin & Spice Granola
Grain-Free Pumpkin Muffins
Pumpkin Protein Waffles
Spiced Pumpkin Protein Pancakes
Grain-Free Pumpkin Pancakes
Whole Wheat Pumpkin Pancakes
Protein Packed Pumpkin Pancakes
Pumpkin Protein Pancakes
Coconut Whipped Cream
Whole Wheat Pumpkin Bread
Pumpkin Protein Oat Muffins
{Three – Pumpkin Sides } Starting on Page 32
Make your own Pumpkin Puree!
Pumpkin Mashed Potatoes
Creamy Coconut Pumpkin Mashed Potatoes
Pumpkin FRIES!
Salty Pumpkin Fries
Sweet Pumpkin Fries
Spicy Pumpkin Fries
Spicy Roasted Pumpkin
Roasted Pumpkin Slices
{Four – Pumpkin Soups & Chili } Starting on Page 40
Simple Pumpkin Soup with a Kick!
World's Best Pumpkin Soup
Curry Pumpkin Soup
The GREAT Pumpkin Soup
Southwestern Pumpkin Black Bean Soup
Sweet Potato & Pumpkin Soup
Coconut Pumpkin Soup
Harvest Pumpkin Soup
Thai Pumpkin Soup
Delicious White Bean Pumpkin Chili
Pumpkin & Grass Fed Beef Chili
Lean Turkey Chili
Turkey and Roasted Pumpkin Chili
Crock-Pot Pumpkin & Beans
{Five – Pumpkin Main Dishes } Starting on Page 57
Pumpkin Grilled Chicken Breasts
Pumpkin Stuffed Chicken fit for Company
Pumpkin Turkey Meatloaf
Thai Pumpkin Chicken Curry
Pumpkin Chicken Enchiladas
Creamy Pumpkin Chicken Casserole
Grilled Pumpkin
Crock-Pot Chicken & Pumpkin
{Six – Pumpkin Desserts } Starting on Page 68
Grain-free Chocolate chip Pumpkin Cookies
Easiest Soft Pumpkin & PB Cookies!
The REALLY Naughty Pumpkin Cookies
Pumpkin Ice Cream!
Frozen Pumpkin Cream Pies
Gooey Pumpkin Brownies
Pumpkin Brownies to Die for!
Pumpkin Chocolate Almond Butter
Pumpkin Cheesecake Protein Pancakes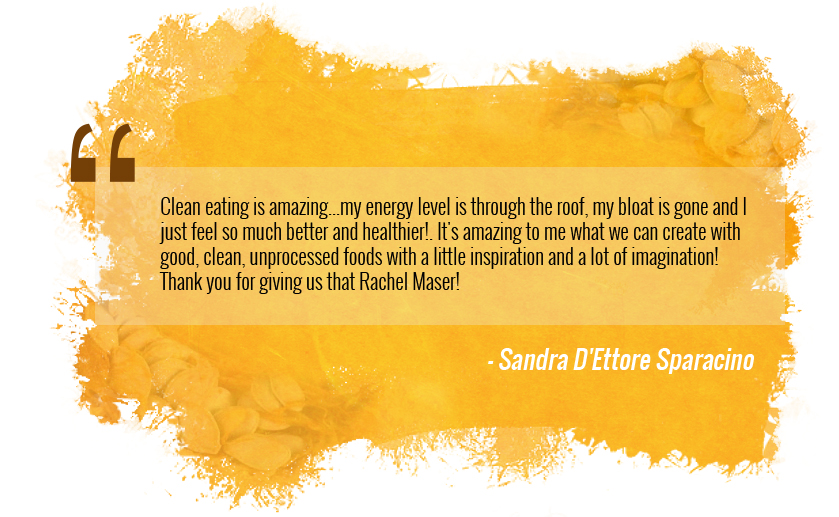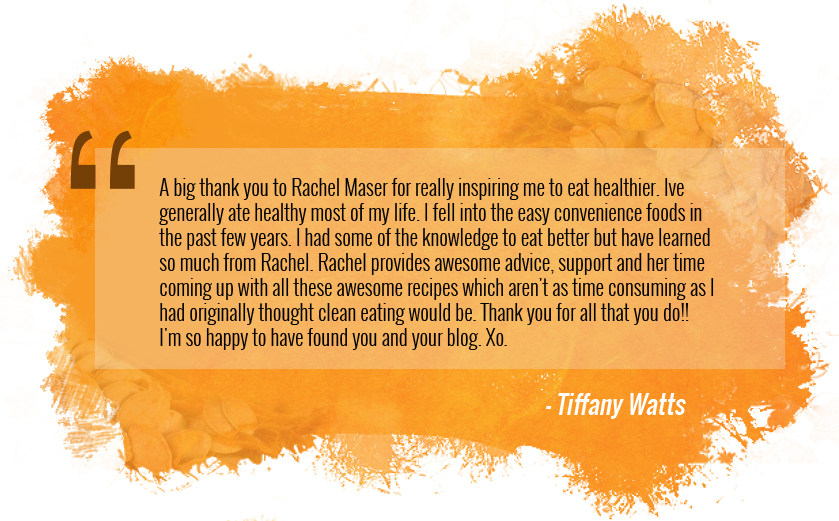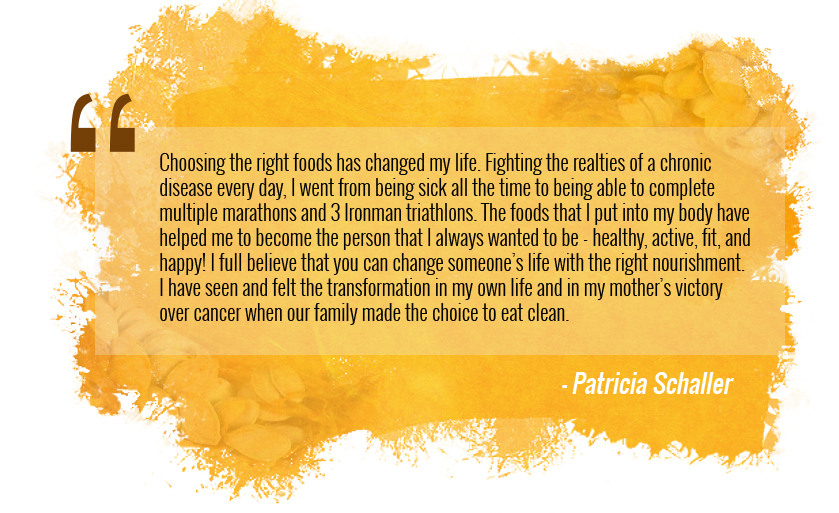 The Clean Food Crush recipes are so easy and quick to make.
Pumpkin is filled with nutrition, and is deliciously autumn.
Instant Access via Online Download or order the Physical Book from Amazon.com